Jake is helping his girlfriend Jasmine move into a new place. While talking to his girlfriend's stepmom Eva, he admits he has a little problem, he has not been satisfying Jasmine in the bedroom. Eva likes Jake so much and wants to see her step daughter have a lasting relationship SO she teaches Jake how to lick pussy.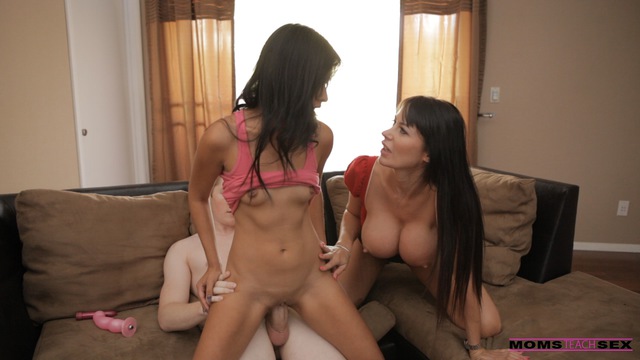 To see more of this Video make sure to click here
Jake isn't doing it properly so she puts his head between her legs and he learns how to lick a real pussy. Just as he is starting to do good Jasmine comes in. Jake tells Jasmine he was just learning. He only did it because he loves her and wants to be better with cunnilingus. Jasmine is skeptical but lets him suck on her clit while Eva slips away.
After the pussy eating results in a mighty orgasm Jasmine opens her eyes to see her stepmom back again. Jasmine tries to take Jakes enormous cock but struggles so Eva's pussy swallows the cock up and she shows Jasmine how to fuck. Jasmine practices with a toy but still has trouble with Jakes dick, so Eva fucks Jake until he blasts his load all over her big titties.